The History of Gatwick Airport
1241AD to 1958

Page 2


Please, if you have any photo's you can share or show on this site, please drop me a line anytime, email Dave
---
---
Above - a side profile of the new Gatwick Terminal


Left - a rare plan view of the terminal, designed by Hoar Marlow & Lovett


Below - from 1935 - the passenger gates start to take shape at Gatwick
The round "martello tower" type design was said to have come to Jackaman late one evening. He was at home with the parents tryng to work out how best to set up his airport; the design of Croydon not being seen as best anymore.

Reportedly his Father said "you are going round in circles, go to bed".

That was the key to solving the issues that plagued many flat fronted terminals. Gatwick would have 6 gates, all arranged evenly around the terminal. Aircraft could taxy in using a one-way system, stop at a gate, and when ready depart without affecting other aircraft parked at the gates. The spacing of the gates meant the effects of prop wash were also limited on the aircraft behind.

The terminal also had covered walkways that could be run out to the aircraft when it was wet. These extendable gates ran on small tracks in the ground. (image courtesy of Lightmoor Press)

Gatwick was not only the first round terminal airport in the world, it was the first to have extendable gates...something taken for granted nowadays.
Hillman Airways had by now gone; they were merged with another company's (Whitehall Securities) aircraft business to form Allied British Airways (first time around). Thus on 17 May 1936, having moved their entire operation to Gatwick, British Airways began operations.

Initially British Airways had five destinations available from Gatwick, Paris, Malmo via Amsterdam, Hamburg and Copenhagen. Though on 25th May, the Isle of Wight was added making it a round six destinations. Quite a handy number; the terminal having six gates.

Gatwick was officially opened by the Air Ministry's Lord Swinton on 6 June 1936 and was reported in Flight as "shows every indication of being, in time, one of the most important and well run in the country".

A huge assortment of aircraft flew in for the opening of Gatwick, 170 in total, and some performed in an air display including one termed "human flight". Mr Clem Sohn's experiments in bird-like flight attracted a huge public crowd to the opening day too. Luckily for the chap his parachute opened and he only broke one arm when demonstrating the hard part....a human landing!


Though off to a bright start, problems with the night landing system were given as the reason for a number of accidents to night arrivals. Also, the radio system at Gatwick was quite primitive; and aircraft approaching had to contact Croydon who would then telephone Gatwick and ask if they could accept the flight.

But matters came to a head when the landing area drainage started collapsing and the passenger subway was flooding again.....British Airways served notice on Gatwick and headed to Croydon in February 1937 to re-commence operations there.

Marcel Desoutter was said to be distraught at their decision, and the airport was reduced to handling the few flights of Air Handling and Air Touring Limited, its only tenants. British Airways aircraft still visited but only to use the maintenance hangar they had built.
A new source of business was still needed and this came in the form of running a flight training school for the RAF. The Elementary & Reserve Flight Training Schools (E&RFTS) were run by civilian operators to help get enough pilots trained in readiness for war.

Desoutter set about recruiting the necessary instructors and making the arrangements, and on 1 October 1937 No.19 E&RFTS opened at Gatwick. But if Gatwick was to be taken seriously it needed more business. British Airways briefly moved back to Gatwick and operated their flight training school there before moving to Heston; this time they took their maintenance unit and hangar staff with them.

Heston, Airwork's original air park and base, had been bought by the Air Ministry with the intention it should be London's second airport and also British Airways' base. Soon after Desoutter received an enquiry from Airwork about taking hangar space at Gatwick and thus in the summer of 1938 Airwork moved into the redundant British Airways hangar at Gatwick. And in September Airwork started work on building a second hangar; this was to undertake contract repair work on military aircraft for the Air Ministry.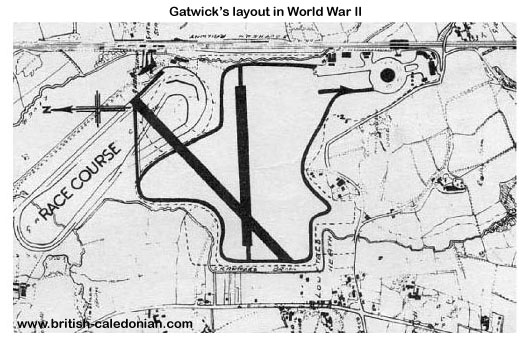 Gatwick's role was now set as primarily a military training school and military aircraft servicing base, but they were making money now albeit not as they had hoped. Airports Ltd started with 24 aircraft and 10 instructors in 1937 between Gatwick and Gravesend and within 18 months they had grown to 57 aircraft and 31 instructors. This would grow again as regular RAF pilots would soon be trained at Gatwick.

War was declared on 3rd September 1939 and soon after, on 6th September, Gatwick was requisitioned by the RAF and this order included a large section of the adjacent Gatwick Racecourse for a second landing strip when needed.

On the left, the round terminal can be seen on the top right corner and the two grass strips shown. The NorthEast - SouthWest grass strip can be seen to take a huge section of the race course when it was finally laid out.
However, Croydon had been lost to RAF Kenley's use and three fighter squadrons were now based at Croydon. All of the airlines that moved from Croydon to Heston were unimpressed with facilities and a delegation visited Gatwick in December 1939, the Imperial Airways and British Airways representatives were impressed. The State airlines went about carving up what they wanted at Gatwick, though Airwork's facilities were left alone. Firstly they were engaged on Government war work and by all accounts it was apparent they would not give them up easily.

Imperial Airways and British Airways were in the throes of becoming BOAC, and it was not long before hundreds of BOAC personnel were on site at Gatwick. The RAF were slowly being forced out but they had one last go at keeping Gatwick and flew in 92 Squadron for training......but they even lost out to the horses and had to do their final day's training at Kenley to save interfering with one of the last Gatwick Racecourse meetings.

Gatwick was still officially requistioned by the Air Ministry and could be taken over at any stage, but for now the civil airlines were back. It was short lived, soon RAF Gatwick was needed and numerous squadrons were stationed there. The Beehive was given a camouflage coat of paint, the airlines headed off back to Heston, and Gatwick served the RAF throughout World War II.
After the war was over it would me many months before civilian flying could be resumed by all. A small number of airlines had remained active through the war, those seen critical for the nation and its operation. Gatwick was eventually handed back by the RAF to the Ministry on 31 August 1946 and it fell straight into some uncertainty over its future.

During the war, Airports Limited had commissioned a study into how to develop Gatwick after the war. Three options were tabled:

a) Improve the existing airport
b) Expand and swallow the racecourse and divert the main A23 road
c) Build a 4 runway major airport, 4000yd and three 3000yd runways.

The Air Ministry were sent the plans but by 1945 they had lost interest and were now focusing on Heathrow. Airports Limited were told they could dispose of Gatwick as they saw fit when it was handed back as it was not needed. The racecourse owners expected to get their land back from the military after the war so they could resume racing.

But after the war, many small charter airlines were starting up many with former military pilots and aircraft that were now surplus. Croydon was becoming busy with state airline and foreign airlines services as well as handling all the smaller operators. Desoutter put Gatwick forward as an Air Taxi and Charter airport, the now Ministry of Civil Aviation agreed......albeit for a trial period and the Ministry extended its reqisition of Gatwick in October 1946.....including the part of the racecourse taken in 1939.

Gatwick started to grow busier as more airlines came to operate from there, a few being C.L Surveys, Bond Air Services, Dennis Aviation and Modern Airways. They would be followed by Hunting Air Travel. The Daily Express Air Pageants on 1948 and 1949 saw Gatwick Racecourse Station back in use as thousands travelled to watch the air shows from the racecourse site.

In April 1948 what would be the last ever meeting was held on the Gatwick Racecourse; it was still missing a large area of land but the local Surrey & Burstow Hunt used the available land for their Point to Point Meeting. Many turned up to watch, using the Gatwick Racecourse Station for one last time too.

The life of Gatwick had not been easy and yet again it was set for a rough ride.

Despite the land requisition being extended for another year in to 1949, it was announced in Parliament that Gatwick was to be de-requisitioned in March 1949 so that Stansted could become London's diversionary airport.

Swift intervention came in time, possibly from an unlikely source, the newly formed state carrier British European Airways applied persistent pressure and the Ministry of Civil Aviation relented and pushed any decision over Gatwick back to 1950. This news effectively closed the Gatwick Racecourse and any hopes they had to resume racing vanished.

But in 1950 the winds changed again, this time in favour of Gatwick. The London Airport Area Committee began to favour Gatwick as London's alternate airport. Gatwick had handled 11,000 passengers and 169 tons of freight in 1950; their best year. This mainly from the BEA services to Alderney, but it was enough.

Though, questions were asked in Parliament about the decision to expand Gatwick. The rise of the helicopter was seen, by some, as a better bet....suggesting that Gatwick would be redundant in two years and that this large amount of money should be spent on developing helicopters. This was rejected, the Minister stating fixed-wing services were the way forward.

Silver City and Jersey Airlines now started using Gatwick too. Silver City flew car ferry services to Le Touquet and Jersey Airlines flew to Alderney (as a BEA Associate). The railway now started running London to Gatwick services as the passenger numbers were rising steadily and they continued to do so until 1956.

They again looked for private aviation to fill the gap and adverts soon appeared offering deals for private individuals.
Some of BCal's forebears using Gatwick's Beehive Terminal
And now onto the final page of this feature on Gatwick's History
with some super photos and images