George Reed
Manager Customer Services Standards
Sadly George passed away early on the 27th November 2015 from complications following an operation. Our sincere condolences go out to George's wife Angela, his family, friends and former colleagues.

George, formerly a Red Cap, rose to Manager Ground Handling and on to Manager Customer Services Standards in 1985 and was involved in many aspects including BCal's Royal Flights.

George's service was held on 16th December 2015 at Northleigh Parish Church (St Giles), Devon, with a committal at the East Devon Crematorium
---
George Remembered
I have found a photo of George in the archive from 1986
George, in the left foreground in the lighter suit, with the team involved with the Royal Middle East Tour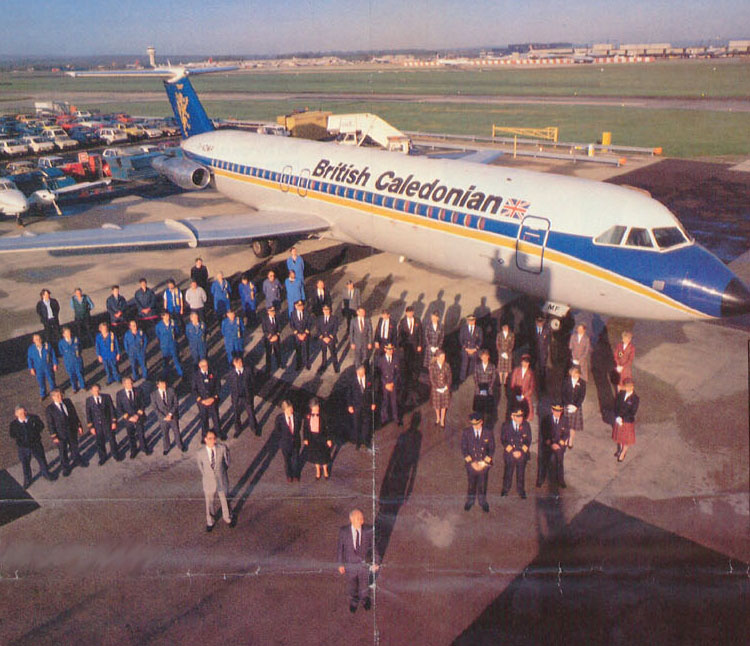 George Remembered


From Jennifer Thomas (George's sister)
George was my younger brother, my childhood companion and best friend. We were brought up in India towards the end of the British Raj. We went to boarding school together in the Nilgiri Hills; the first Hill Station set up by the British. He was an amazing man, utterly charming and one of the kindest people I have ever known. He always looked for the best in people and treated everyone with respect and compassion. He moved to Devon to work for Flybe about 17 years ago, and latterly we saw less of each other, as he and his beloved Angela ran their farm, with many rescued horses, dogs, cats chickens, calves - the list goes on. He always lived his life full on - nothing daunted him. He and Angela were a fantastic team.

I flew as Cabin crew with Caledonian Airways and then BCAL after the merger. Our hearts are breaking at his passing. Our thoughts especially with Angela and our Mum who has lost her only son. A great shining light has left, the world is a little darker.

From Phil Bowell
George was a special breed - everybody admired and respected him - I personally learnt so much from him - a wonderful man who had a big heart. BCAL ran on guys like George - he impacted of everyone he met in the most positive of ways.

From Charles Powell
I first met George in 1980 when I interviewed him for his first management post in BCAL. That interview forged a very close relationship between us. He was appointed to manage the Catering Loader/Drivers, reputed to be one of the most difficult groups in the company to manage. He held that job until the catering unit was closed a year later. In doing so he became the first manager in history to lead that activity without there being any strike action. It was a fine performance by him that was to characterise his later management work in BCAL, Ogdens and Flybe. During the time he worked with me we shared some very memorable times and we used to recall these when we met. I shall miss him sorely but I do have those wonderful memories. My saddest and dearest condolences to Angela.

From David Holder
George was a highly respected member of the BCAL team. I first remember George when he was on his way up in the company and he came to learn about Fleet Planning and came to work with me in Current Fleet Planning, can't remember the year but, George was a great man keen to learn something new and soon got the art of dealing with all the attributes in the planning role. In his latter career in the company we remained working closely together as part of the Ground Operations Team, and spent many a challenging time together. George was always fun, a great personality and a nice person. I was saddened to learn of his passing and I send my sincere condolences to Angela and his family.

From Charles Manetta
This news has saddened me more than I can say. I donít think there is one of us that did not owe George a debt of gratitude. A true friend and colleague. My sincerest condolences.

From Caron and Dave Phillips
It is with great shock and deep sadness to learn of George's passing. He and I were among a group of young men who joined BUA as 'redcaps' in Service control in April 1969. I later became a steward with Caledonian but it was not long before our paths crossed down route. One such memorable occasion was when he and Angela invited Caron and myself to a night out at Happy Valley racecourse in Hong Kong. More recently, regrettably we met at funerals of ex- colleagues. Our sincerest condolance and sympathy to Angela, George's family and friends at this sad time.

From Annie Gurton
George and I met at Balcombe Road School in September 1963. We were both new kids in the same class on the same day, and we always had that strange thing in common. He was, even then, the most charming gentle person, courteous, respectful and respected. I have many memories of fun times with him and others, and I have nothing but happy, cheerful remembrances full of laughter. Condolences to his nearest family, and Angela in particular. And to the rest of us - his good friends, we send condolences to each other.

From Caroline Ritson
I had known of George for quite a while before really meeting him a bit late in the day perhaps, when he was with Ogden and we got to know each other rather well although as is always the way, I gradually lost touch when he went off to the West Country. He even offered me job with Flybe!

From Judith Turner
I was deeply saddened to hear of Georges passing. I have known George for eleven years and he gave me one of the greatest gifts I could ever receive - Glory my beautiful chestnut ex racehorse. Glory will be with me till the end and together we ride the wind with George in our hearts. My deepest condolences to Angela and family.

From Bill & Kitty Erskine
As others have observed George got along with the full spectrum of life's characters, and they with him. Even having a difference of opinion with George was fun. I worked in the same management team with him before and after the " Merger ". It was like being a co-conspiritor in an enterprise whose direction of travel only he understood, or so he could make it seem. He was a wonderful guy. However tough the challenge we faced, he confronted it with good grace, a perpetual smile and a lot of mischievous laughter. He read the unwritten text as well as anyone I know. Only good memories! And our thoughts are with you Angela.

From Christine Simmonds
I was saddened to hear the news that George had passed away. I was George's secretary at Ogdens for just a short time, but have really fond memories of my time there. He was definitely one of the good guys, and will be sadly missed by all who knew him. My sincere condolences go to Angela and his family.

From Martyn Gurton : I knew George for many years from BCal Ops to a very social scene.........I really great guy

From Carol Bramley
I joined British Caledonian in 1978, initially working for Trevor Warburton and Phil Bowell before becoming Secretary to George in his new position as Manager Ramp Operations in the eighties. He was great fun to work with and, as others have said, was hugely respectful to everyone - even Shop Stewards! Our friendship continued after I left in 1985 and we often visited his home in Leigh where we were always made welcome by George and Angela. My children have great memories of riding his horses. A truly lovely man, my sincere condolences to Angela and George's Mum.




If you would like to leave a message in remembrance please drop me a line anytime



Close this page


.
George, with his Mum and four sisters, at a family wedding in 2015


(I heard sadly that George's Mum passed in May 2017)